過時賣日曆
Expired Calendars for Sale
Artwork concept, performance and video:
Anchi Lin [Ciwas Tahos]
Studio assistant and photographer:
Julia Lin Kingham, 2019
Recycled steel, wheels, leftover red-paint, collected expired calendars, loud speaker 215cm x 65cm x 64cm
「過時賣曆日」,譬喻錯判時機,一旦失去後無法再追回;如同過期日曆毫無價值,因此做事得把握當下時機,否則毫無效益。執行創作過程中,我想表現此句俚語中「賣」的展現模式與場域,在夜市中,充滿各種高機動性的攤販架,為了融入夜市場景,因此製作了一個販賣架,並帶到在地人最熟悉的麻豆夜市。我將挨家挨戶所收集到的過期日曆吊掛在我的販賣架上,並以先前錄製好的聲音,用大聲公擴音「賣過期日曆」。5個小時的現場行為過程中,夜市裡的民眾一直熱心地指導我的臺語發音,最後請民眾將他們認為最正確的「賣過期日曆」發音方式錄在我的大聲公裡播放,也因此各種不同版本的「過時賣日曆」的叫賣聲最後在30分鐘長的錄像影片可以被聽到。


Expired Calendars for Sale
is a Taiwanese idiom referring to a story of two local businesswomen. The first woman's home business is selling candles, she decided to keep all her candles to sell in the New Year market for a much better sale price. The second woman sells calendars and she copies the candle woman's method, but she failed because all the calendars were expired by the time the New Year market happened. This story tells of the importance of timing, otherwise it is just like an expired calendar – worthless. In this work, I combined the idea of a high-mobility street vendor, as my inspiration to create my sculpture. Then, I brought my work to various locations at first pushing it and then using a local truck to transport it (and me) to the local Madou Night Market. Here I hung expired calendars collected from local residents and a speaker shouted "selling expired calendars" loudly in the night market using the recorded voices of local residents revealing different versions of how this idiom is pronounced in our local Taiwanese (Hō-ló or Hokkien Taiwanese) language.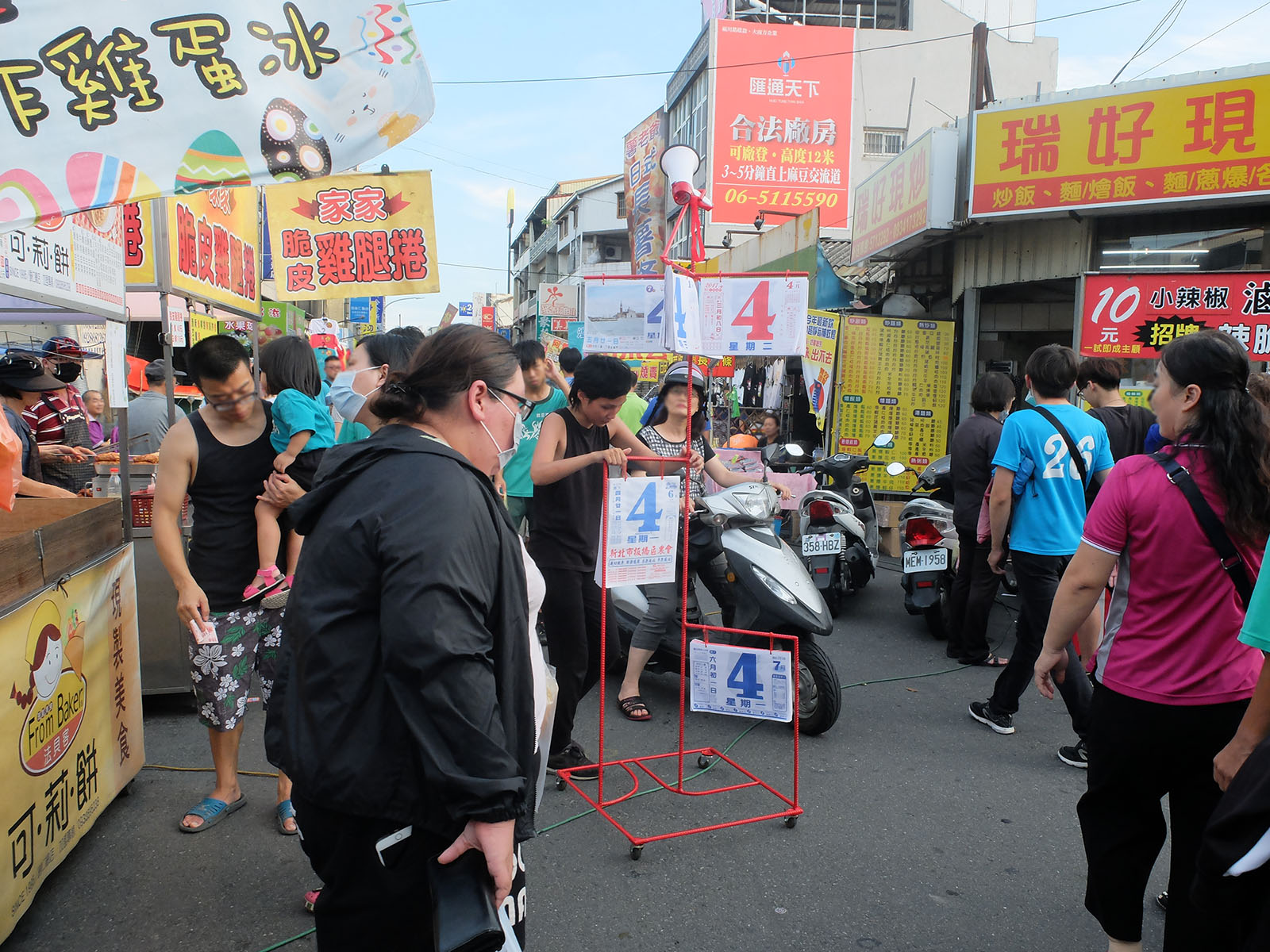 Photos by Julia Lin Kingham